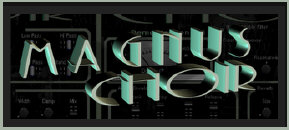 Magnus Choir VSTi version 1.6
Use it as a plug-in within your favorite DAW or music sequencer. Virtual Choir in classic SATB structure: female sopranos and altos / male tenors and basses. Synthetic choirs / Fx / voices also are available...

You can connect with us on Facebook, Twitter, YouTube, Instagram, MySpace, SoundCloud, Vimeo, Dailymotion, Tumblr, StumbleUpon, Google+, Flickr, Twitvid, Telly, Veoh, Photobucket, Pinterest, FriendFeed, Metacafe, Quora, Lacartes, Plurk, Diigo, Mixcrate, Ustream, TagTélé, Beat100, Ipadio, Slideshare, PDFCast, Keek, Chirbit, Huffduffer, Big Contact, LinkedIn, Mixcloud, Tagged, Fandalism, Deezer, Coverium, Vube, Chordify, Shuffler, Wavo, App.net, Twtrland, Paper.li, Delicious, BuzzFeed, FlipSnack, VK, DropShots, Odnoklassniki, Vidme, Ello, YourListen, AudioBoo, 500px, Medium, About.me and a bunch of other networking sites! We hope you enjoy our software, videos and music demos!